Stephanie Asbury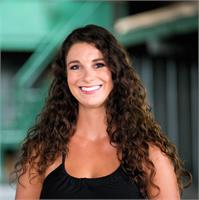 Stephanie found yoga in search for a new workout routine. After practicing for about a month, she learned yoga was challenging in so many more
ways than expected and fell in love with how it challenged her balance, strength, breath, patience, and ability to stay present in the moment.
For a while the fitness kept her coming back to her mat. But after moving away from the community and being faced with challenges of being alone in a new place and unbalanced in her life, she learned that a regular yoga practice was the way to maintain balance.
Going back to the fundamentals on her mat taught her of living presently, breathing through life's challenges,
finding inner strength, being patient with what she's been given
at this moment, gratitude for what her body and mind are capable of are
just a few benefits.
The practice of yoga is exactly what you make of it... If you want to find strength, that's what the mat will give you. If you want to find balance - the mat will give you balance. If you
want to find your true self, that's exactly what the mat will give
you... This is what Stephanie wants to foster and inspire both in her own practice and through leading others in theirs.
Her teacher training at Asheville
Yoga Center has led her on a journey of self growth and provided the
fundamentals and philosophy of yoga to inspire others.
Stephanie Asbury instructs the following:
Like a good power yoga class? Then you will LOVE Ashtanga Vinyassa since it's the basis for most modern power yoga.


Ashtanga is a vinyasa-style practice that follows a set series of poses, established by Indian guru, Sri K. Pattabhi Jois. This is a powerful style of yoga that weaves breath and movement through a sequential order of asanas that is meticulously followed. Each posture is a preparation for the next, developing the strength and balance required to move further. The series is also sequenced in a way that is easy for new students to learn the most commonly practiced poses. The internal heat created through the practice results in a body that is light and strong and a mind that is focused and calm. Modifications will be offered to students based upon their level - beginners are welcome. Done in a warm room (85).