Gary Runyon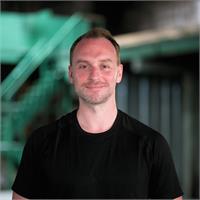 Gary is one of our top graduates from our 2015 Real Hot Yoga 200-hour Yoga Alliance teacher training. We are excited to welcome him to our team of exceptional instructors.
Gary, in turn, is excited to share his knowledge and passion of yoga with all of you.
Gary Runyon instructs the following:
Get the best of both worlds in this yoga-fitness hybrid. This 60-minute class starts with a rigorous vinyasa yoga warm up, peaks with boot camp style strength and toning stations, and finishes with deeper, cooling stretches. The 95 room temp is guaranteed to kick your workout up a notch!




Everything you love about Baron Baptiste's Journey Into Power sequence but with lots of additional and creative challenges! This is a fast paced, inspiring power flow! In this all levels class you can modify or amplify as needed with dropping a knee, using a prop or taking a posture into an arm balance or inversion. The only thing NOT optional is having fun and getting a killer workout - whatever your level!!




Yin yoga works on a deeper level, getting into the joints and lengthening connective tissue (tendons and ligaments). Because the majority of yin yoga poses target the area between the knees and the waist it's a must for runners and athletes. This particular Yin class also holds the key to advancing in your yoga practice - or any other sport. There are 2 things that can either help you progress or give you a competitive edge, or, without can hinder you... flexibility in the hips and core strength. So in addition to therapeutic deep stretching, we've added in a few things to strengthen your core and get your heart rate up!

See what a difference Real Hot Yin yoga can make in the rest of your practice! In this class the intense heat (105) creates even deeper results. The quicker the muscles relax, the sooner you can get into the deeper work.
What poses do you find challenging? There's a yin pose to help!




In this fun and unique class! Resistance bands or small weights in conjunction with small isometric moves are added to classic yoga postures to kick the toning aspect up a notch. This helps to tone some of the smaller, lesser used muscles helps to bring them into "action" to aid the larger muscles making all of your yoga poses even stronger to get the maximum benefits!

Add some core work to the mix and get ready to feel the burn! And because we like it hot, our 95 room ensures a great detoxifying sweat to make you feel great!