Amy Yunger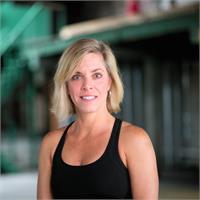 Amy first stepped into a yoga studio in 2002 as a compliment to her running. She was hooked from that point on and began teaching in 2005.
Being a runner & all too familiar with ITBS, along with tight hammies and hip flexors, Amy tends to focus on poses for runners. Whether it be strength or flexibility.
Amy's classes are not your typical yoga class; no Om'ing here. She teaches a blend of Vinyasa and Power Yoga, combining sequences with pauses and a few chaturangas along the way. Her classes offer both easier and more difficult versions of poses, along with some great tunes and creative sequences.
Amy teaches a multi-leveled class that provides a balance of strength, flexibility and endurance, while uniquely challenging each participant in a playful way!
Amy Yunger instructs the following:
Hot Flow/Hot power/Hot vinyasa - Call it what you want, it's one of our favorite classes! Power yoga offers an excellent way to tone & strengthen muscles, increase heart rate, and burn calories...and then some! The hot room, 95 will make you sweat giving your body an awesome detoxification. Challenge yourself, feel great, and prepare to power through the rest of your day… or evening. Don't let the "level 1" fool you! Level 1 simply means more detailed descriptions, and optional/revised poses taught, but first timer or experienced yogis will both get a GREAT workout!