Hot "YINyasa" - all levels
This class is taught by: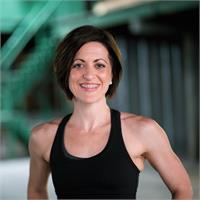 As a lifelong runner, Brandie had always used yoga as a means of counteracting the stress running put on her body. It was also a way of dealing with the demands of being a stay-at-home, homeschooling mom. It wasn't until she discovered the Baptiste methodology that she really fell in love with yoga and kissed her running shoes goodbye.
Baptiste yoga not only met the physical intensity that Brandie loved from running, but it also helped her to create space, awareness, peace, and confidence in her life on and off the mat. She has since had the privilege of training with Baron Baptiste, Paige Elenson of the Africa Yoga project, and Bethany Lyons Murray, and will very shortly be the only certified Baptiste yoga instructor in Knoxville.
Brandie is beyond thrilled to have the opportunity to share this style of yoga that she loves so much with the Real Hot Yoga community.
This is the perfect class for summer and offers everything your body needs in just one hour. It starts with power yoga to keep you strong and finishes with deep therapautic stretching that will keep you injury free through an active summer outdoors!
Upcoming classes: