Hot Power Yoga - Level 2+
This class is taught by: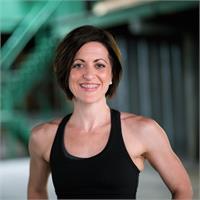 As a lifelong runner, Brandie had always used yoga as a means of counteracting the stress running put on her body. It was also a way of dealing with the demands of being a stay-at-home, homeschooling mom. It wasn't until she discovered the Baptiste methodology that she really fell in love with yoga and kissed her running shoes goodbye.
Baptiste yoga not only met the physical intensity that Brandie loved from running, but it also helped her to create space, awareness, peace, and confidence in her life on and off the mat. She has since had the privilege of training with Baron Baptiste, Paige Elenson of the Africa Yoga project, and Bethany Lyons Murray, and will very shortly be the only certified Baptiste yoga instructor in Knoxville.
Brandie is beyond thrilled to have the opportunity to share this style of yoga that she loves so much with the Real Hot Yoga community.
In 2011Emily graduated from Yoga Teacher Training. Since receiving her RYT 200 hour, Emily has taught yoga at CrossFit Knoxville, D1, and Fort Sanders Health and Fitness Center, as well as home-based private sessions. Now, we're happy to welcome her to Real Hot Yoga!
She believes that all people can benefit from yoga, from the athletes to wheelchair bound, and everyone in between.
Emily was a student of classical ballet for over twelve years and continued her journey into instructing and teaching in health and fitness through leading bootcamps, becoming a certified personal training, and a spinning instructor. Fitness and balance from the inside out is a philosophy that she adheres to.
Emily enjoys many different styles of yoga, including, intense power, gentle restorative flow, yin, and Tantric vinyasa. All walks of life can find their place in yoga!
We call this class level 2+ because if you want the challenge and opportunity to do lots of arm balances, inversions and other more advanced postures, you'll have the chance. These are optional and you can build up to them because the instruction is more detailed than our intermediate/advanced class. This is a high energy power yoga classes emphasizing core strength and alignment featuring plenty of opportunities to take your practice into arm-balances, inversions and other more advanced versions of poses. Because of the faster paced nature of this class, this class is for those with a current established yoga practice only. No beginners please.
Upcoming classes: